Martin Luther King Jr. Day
In 1968 African American people were discriminated by the whites. They were not allowed to go into the same entrances as the white people or even drink from the same water fountain. Then came a man who decided that he was sick of having to move seats on the bus for the white children and became aggravated with the way the blacks were treated. Martin Luther King Jr. was determined to make this change. He went through his schooling and became a pastor. He spoke to his audience about how this is not how God wanted them to live. He felt like they should be treated the same as the whites. Therefore, Martin Luther King Jr. became a member of the executive committee of the National Association for the Advancement of Colored People (NAACP). He even helped with the bus boycott in Alabama that lasted 382 days. On December 21, 1956, after the Supreme Court of the United States had declared unconstitutional the laws requiring segregation on buses, African Americans and whites rode the buses as equals. During all of this, however, Martin Luther was put in jail, his home was bombed, he put up with personal abuse, but still came out to be the most influential African American leader of all time, according to Nobel Media. Over eleven years King wrote five books, numerous articles, and gave over twenty-five hundred speeches. One of the most famous speeches he made was "I Have a Dream." This touched so many people that Time magazine named him man of the year in 1963. Martin Luther King Jr. received the Nobel Peace Prize at age thirty-five, making him the youngest man to receive the prize. He ended up giving all of the prize money to the civil rights movements. On April 4, 1968 King was giving a speech in Memphis, Tennessee, going to lead a protest march with striking garbage workers when he was assassinated.
In 1983, Ronald Reagan signed Martin Luther King Jr. Day a holiday. They used King's birthday as a date for the first year then it became a floating holiday meaning it was always the third Monday in January. Many states decided to reject the idea of making it a holiday so they gave it alternative names or combined it with other holidays. It was not until 2000 when all of the states observed it for the first time. Many schools go over the history of Martin Luther King Jr. Day with their students while other schools give the day off. There is also Martin Luther King Day of Service which was started in Pennsylvania. They made it as a citizen action volunteer day throughout their communities. Patrick A. Corvington, CEO of the Corporation of National and Community Service said to Scholastic Inc in an interview, "Dr. King said, 'that life's most persistent urgent question is what are we doing for others?' The MLK day of Service provides us with the opportunity to answer that question. For some people its continuing service it is what they do every day, some people it is the first time it's an opportunity. What we really want people to do is make an enduring commitment to service, but on this MLK day." If you would like to help on MLK day, you can go to http://www.scholastic.com/MLKDay/ to look for a project in your community or even to register a new project.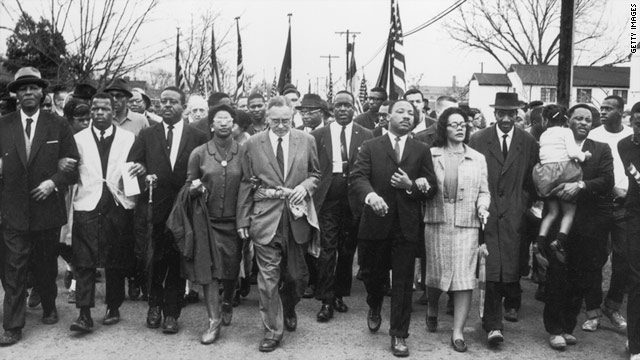 Pictured: On left, Martin Luther King Jr. is giving his speech in Memphis, Tennessee. On right, is M
artin Luther King Jr. Leading a protest for black voting rights marching from Selma, Alabama to the state capital.